liteSOM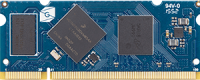 The liteSOM is an extremely low-power, state-of-the-art module based on ARM Cortex-A7 core i.MX 6UltraLight processor. SO-DIMM form factor makes it easy to embed to your device without any technical issues. By placing the most critical signals in the module, even very complex peripherals can be placed using two PCB layers. This allows the delivery of cost-performance optimized designs and speeds-up time to market.
The liteSOM targets a wide range of industrial applications where price sensitivity of the product is important.
The module is designed to operate with all major OS. It is preconfigured for Linux. With a rich set of peripherals the module is designed to cater for a wide range of applications.
Features
Fast time to market,

Reduction of production costs,

Tiny size - 67.6mm x 26.5mm x 3mm,

SO-DIMM standard form factor,

Universal for multiple projects,

Fast and high-performance processor,

Easy EMC certification,

Low heat dissipation.
Applications
Industrial Automation,

Home/Building Automation,

Medical Appliances,

HMI panels,

Internet of Things,

Metering Gateways,

Consumer Electronics.
Technical specification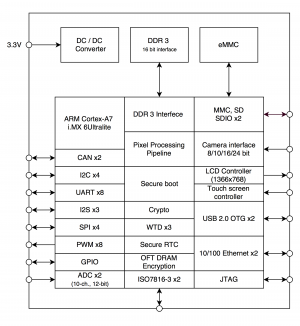 Processor
i.MX 6UltraLite, 528 MHz, ARM® Cortex®-A7 Core
RAM
up to 512MB
eMMC
2GB
Power supply
Single 3.3V DC
Size
67.6mm x 26.5mm x 3mm
Temperature range
0˚C to 70 ˚C or -40 ˚C to 85 ˚C
OS support
Linux
Graphics
Parallel LCD Display up to WXGA (1366×768)
Interfaces
2x 10/100Ethernet
2x USB2.0 OTG
2x CAN
8x UART
4x SPI
4x I2C
3x I2S
Camera interface
8/10/16/24-bit Parallel Camera Sensor Interface
Security
Crypto Engine (AES with DPA, TDES/SHA/RSA)
Tamper Monitor
Secure Boot
SIMV2/EVMSIM X 2
OTF DRAM Encryption
Declarations
Non-Use of Conflict Minerals
REACH Statement
RoHS